An opportunity to stay in a beautifully renovated self-contained former hop pickers accommodation in area of outstanding natural beauty in South East of England providing contemporary accommodation to a high standard and spectacular views.
The Brighton Hopper Hut is all on ground floor with open plan living space and own outdoor area with private parking.
Living Area: Bed settee & Armchair Smart TV
Dining Area: Table & Chairs
Kitchen Area: Electric Oven & Hob, Microwave, Toaster, Kettle, Fridge Freezer, Washer/dryer, Dishwasher, Cups, Plates, Knives, Forks and Cooking Equipment provided, Breakfast Bar & Bar Stools
Bedroom 1: Double Bed, Bedside Cabinets, Wardrobe, Chest Of Drawers, TV
Bedroom 2: Single Bed, Chest Of Drawers, Bedside Cabinet
Wet Room: Electric Shower, Toilet, Basin, Grab Rails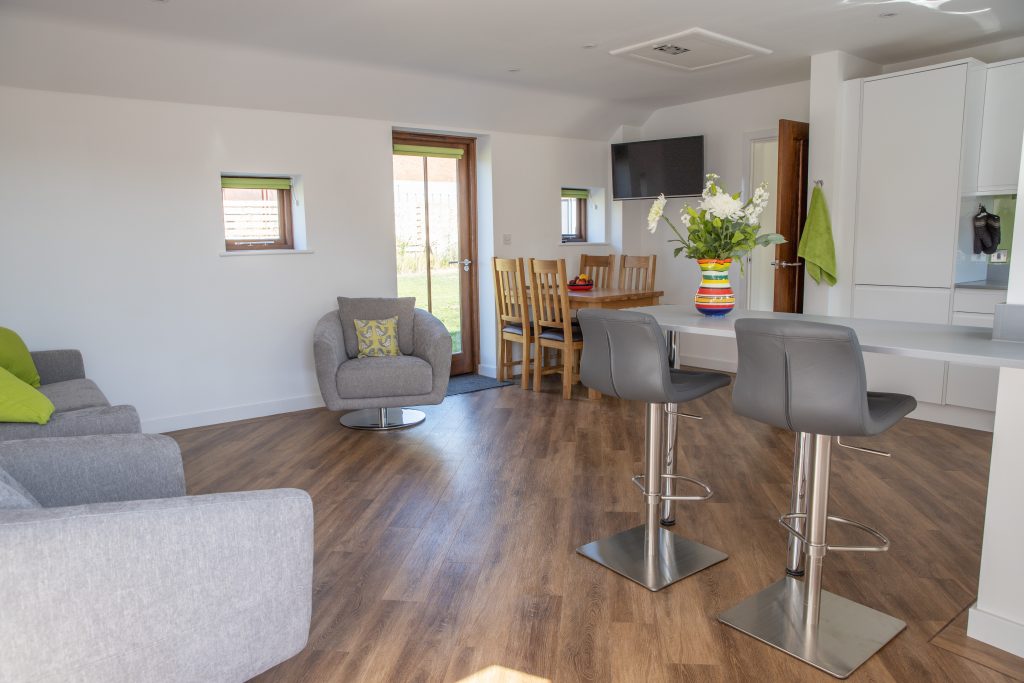 Testimonials
Here's what our guests say...
"
The London hopper hut was totally perfect. Quiet, spotless, and had everything that we needed. There is also a farm shop just on the outskirts of Goudhurst that is well worth a visit. We loved our week away. We definitely will come back .
"
"
Nice and peaceful location with lots of places to explore and walk the dogs (if you are bringing pets), easy parking located foot steps from your door and the heating system and internet are perfect and make it very cosy in even the cold weathers, would definitely stay again…
"
"
We spent a lovely week staying at the London Hopper Hut, the accommodation was spacious well equipped and spotless throughout. The patio seating area was very welcome to come back to at the end of the day of sightseeing in the surrounding area. Would definitely recommend to anyone looking to…
"
"
Wow – What a find! A fabulous little holiday house with all the amenities one needs. Stunning views and lovely hosts. Thank you so much Karen & Nigel. I will be back.
"
"
We loved our stay in the cottage. Its beautifully done! The view is unique. We will recommend to our Dutch friends and family!!…
"
"
Third visit and will come back again. So peaceful and excellent accommodation. Lots to do locally and we had lovely weather – always a bonus.
"
"
Relaxing stay. Excellent accommodation. Very well equipped. Will definitely recommend.
"
"
Our second visit in 9 months – this time hires two huts namely London & Cooks. Had a great time, very cosy and comfortable even in February!!…
"
Mr R Stevenson
February 22
"
Very clean, comfortable and well equipped property. Beds were very comfortable. Finished to a high standard.
"
Mr & Mrs Hak
October 2021
"
We had a lovely break in this property and would definitely return. Would recommend this to all our friends!…
"
T & W Bowgen
September 21
"
Absolutely perfect, everything we could possibly want was here. Its been a very much needed break. Thank you.
"
A&M Pritch-Williams
September 21
"
Lovely bright spacious and well laid out. Bed is comfy. We've enjoyed our stay here in a great location. We we lucky to find here and it be dog friendly so he has been able to join us on our honeymoon!!The trip has made us want to re visit Kent.
"
"
The Lo9ndon Hopper Hut is fabulous, well catered for, everything you need is here. Its finished to a really good standard. The situation is lovely and quiet, just what you need for a getaway break. Will definitely be back.
"
"
Very good property. Great to be able to bring dog. Good Parking. All round very good.
"
"
Perfect, comfortable and ideal  for our needs. Lovely view & facilities. Would definitely visit  again. Thank you for a lovely relaxing stay.
"
"
Great property & great location. Loved our stay. ******5 Stars out of 5…
"
"
We found this property to be perfect in every way. Very well equipped, bed very comfortable with a very homely feel. Hope to be able to come again, even our dog was happier and relaxed. Thank you.
"
"
Excellent facilities, very well equipped accommodation which made our stay very enjoyable. Hope to return next year to enjoy the peaceful surroundings.
"
"
A wonderful place to relax. Spotlessly clean and very comfortable. Well done we will be back.
"
"
Lovely stay again on this peaceful site. Clean, comfortable and well located. Thank you!…
"
"
Lovely property with high quality fittings and furniture. The shower was fantastic as was the view from the windows.
"
"
Although here on business, I can wholeheartedly say I had a lovely stay. The warm shower was a delight and I slept amazingly. Thank you.
"
"
A delightful, well equipped property with excellent views over open countryside. Having be to Goudhurst previously, the hopper hut takes some beating. Hope you have a successful season!!…
"
"
Really comfortable and  well equipped cottage. In a very quiet location away from roads with lovely views. There are 3 cottages on site, nicely landscaped with well lit paths from car park. Would I come to this cottage again – absolutely!…
"
"
We really enjoyed our week here and thought the hopper hut was lovely. It was spotlessly clean, very comfortable with lovely modern décor and excellent wi-fi. It was great to step outside the door and be able to take the dog for some great walks with wonderful views. It was…
"
"
Very well presented. Had everything we needed. This property is ideal for anyone with mobility issues.
"
"
A lovely place to stay. Modern, clean and of a high standard. Shower room lush!…
"
"
Wheelchair friendly accommodation to this high standard is a real kind. Absolutely   everything you need to make a holiday safe, comfortable and enjoyable. We will book again its wonderful. We had the best holiday. Thank you so much.
"
"
Very comfortable stay, excellent bed and bedding! Thank you.
"
G & C Jeffries
April 2021
"
A beautiful home away from home! This hopper hut conversion is fantastic and finished to a high standard. Lovely countryside surroundings and location. We would defiantly give it 5 stars plus! We would look to book again in the future!…
"
M & R Belfour
December 2020
"
We absolutely loved our time in the Hopper Hut. Its so comfortable and well equipped. Everything about it feels generous. Karen was very helpful and accommodating and we'd love to return some time in the summer (the winter here is great but would imagine it would be wonderful being able…
"
"
We had a lovely stay here during the half term break (in spite of the weather!) The cottage is in great location and really nice. Thank you!…
"
"
Loved my stay here. Spotlessly clean, very relaxing, lovely and quiet. Good standard of bed linen and crockery. There's everything you could need (ironing board etc)…
"
J & K Nelson
October 2020
"
A lovely setting and well maintained property. We will come back again!…
"
"
This property is in a lovely quiet location ideal for a couple relaxing. Close to amenities/attractions. A car is essential.
"